While this information was accurate at the time this post was published, these cards' offers and perks may have expired or changed over time. Visit our reviews of the best credit cards to find the right card for your needs.
If you spend your time going out to eat with family and friends or you're a globetrotter who wants to earn cash back, then you'll want to pay attention to this post. That's because Capital One now has two amazing cash rewards credit cards that are perfect for foodies and travelers, as both earn unlimited cash back at restaurants and travel-related perks. To help you determine which to apply for, we're pitting the Capital One Savor Cash Rewards Credit Card against the Capital One SavorOne Cash Rewards Credit Card. Which card will come out on top? Keep reading to find out.
Best intro bonus: Savor
When it comes to intro bonuses, the Savor card takes the lead. Cardholders will earn a whopping $500 cash bonus after spending $3,000 on purchases within the first 3 months from account opening. That's the highest cash back intro bonuses we've ever seen, and definitely marks it as the clear winner in this category. SavorOne, on the other hand, earns a respectable $150 cash bonus for spending $500 on purchases within the first 3 months. While Savor's bonus is definitely heftier, it also requires a larger spend, so it's worth considering whether you'll be able to meet the heftier 3-month spending minimum before deciding which card is the right fit for you. Most who use the card as their primary form of payment for the first 3 months will likely meet the $3,000 spend requirement, but it's better to be sure before you apply.
Best ongoing rewards: Savor
Savor cardholders earn an unlimited 4% cash back on dining and entertainment (which includes things like movie theaters, record stores, amusement parks, aquariums, zoos and more), 2% at grocery stores and 1% on all other purchases. The earnings are a bit smaller with SavorOne, but not by much — unlimited 3% cash back on dining and entertainment (same categories as Savor), 2% at the grocery store and 1% on all other purchases. Cash back earned with both cards won't expire for the life of your account, and you aren't limited to how much you can earn.
Best redemption options: Tied
Both cards allow you to redeem your rewards for a check, gift card or statement credit, and set up automatic redemption for specific thresholds (e.g., $25, $50, $75 or $100) to make the process of redeeming your rewards even easier.
If a card with a 0% intro APR on purchases and/or balance transfers is a priority for you, then SavorOne is your clear winner. It offers a 15-month 0% intro APR on purchases, as well as a 0% intro APR on balance transfers for 15 months. Note that balance transfers made in the first 15 months will be charged a 3% balance transfer fee, but this one-time fee may be worthwhile when you consider how long the 0% intro APR period is. On the flip side, Savor does not have an intro APR offer for either purchases or balance transfers.
SavorOne is the winner when it comes to fees, as it doesn't charge an annual fee or foreign transaction fees. While Savor doesn't charge foreign transaction fees either, making both worthy companions for out-of-the-country travel, its annual fee is $95. Note that this is waived for the first year, which is a nice way for you to make sure it works for your lifestyle before you pay any annual fee.
Best added perks: Tied
When it comes to additional perks, Capital One packs them into both cards. Take advantage of perks like a 24/7 complimentary concierge service, extended warranty and price protection on eligible purchases and identity theft resolution services that assist you in the event you become a victim of identity theft. When you're on the road, you can count on Master RoadAssist Service to provide 24/7 toll-free dispatch to help with services like towing, fuel delivery and more, and if you rent an eligible vehicle with your card, you'll be covered for physical damage and vehicle theft by MasterRental Insurance. Capital One also helps you keep tabs on duplicate charges, recurring charges and auto-renewing subscriptions with its Second Look feature, and you can instantly lock or unlock your card using the Capital One mobile app.
And the winner is … Savor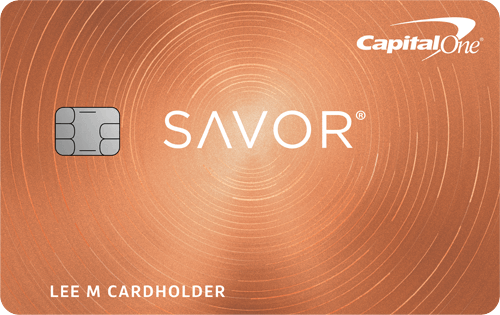 While we want to call it a tie, one card must be labeled as the winner and the Capital One Savor Cash Rewards Credit Card takes the crown for its impressive $500 into bonus opportunity and high-earning unlimited cash back rewards. Visit our Capital One Savor Cash Rewards Credit Card review to make sure it's the perfect card for you and fill out an online application.
That said, you really can't go wrong with the Capital One SavorOne Cash Rewards Credit Card, which is perfect for someone who prioritizes a lack of fees and an introductory period of 0% APR.
Learn more about these cards and others like them, and find out how to apply, by visiting our reviews of the best cash back credit cards.
Disclaimer: This content is not provided or commissioned by the credit card issuer. Opinions expressed here are author's alone, not those of the credit card issuer, and have not been reviewed, approved or otherwise endorsed by the credit card issuer. This content was accurate at the time of this post, but card terms and conditions may change at any time. This site may be compensated through the credit card issuer Affiliate Program.