While this information was accurate at the time this post was published, these cards' offers and perks may have expired or changed over time. Visit our reviews of the best credit cards to find the right card for your needs.
This page includes information about Discover products that are not currently available on Next Advisor and may be out of date.
When it comes to choosing a cash back credit card, there are many factors that go into picking the right one for you, from how cash back is earned to the other perks and benefits the card has to offer.
When using a fixed cash back card, you'll be locked into the same rewards rates across categories over the course of the year. This could mean that all your purchases are rewarded evenly or that you earn a heightened percentage in a specific category or two, but no matter what — your rates won't change. The simple rewards structure and set rates make fixed cash back cards great options for diversified spenders and cardholders who don't want their cash back earning to require too much work.
A rotating cash back card may take some planning in order to reap the full benefits. These cards reward certain spending categories (dining, supermarkets, gas stations, streaming services, department stores, etc.) at a higher rate each quarter of the year, so you might earn a better percentage on your groceries in February than you would in June. With the right money management, you can capitalize on these rotating bonus categories throughout the year and earn some substantial cash back.
Many people might find themselves wondering whether a card with fixed or rotating cash back categories is the better choice for them. There are certainly benefits to both, but how can you know what's right for you? We decided to compare and contrast these two types of cash back rewards programs to help you choose. As an added bonus, we've outlined the top credit cards in both categories for you to consider.
Fixed cash back credit cards
Advantages:
Certainly, the biggest draw of a credit card with fixed cash back categories is that you always know what you're going to get, in terms of cash back rewards. If you're someone who spends a significant amount of money in certain areas, such as gas or groceries, or you'd just like to get back a flat percentage from all your purchases, then it makes sense to choose a cash back rewards credit card that's going to get you the most bang for your buck.
Disadvantages:
Some cardholders may wind up feeling limited by the same old categories month after month, year after year. If your lifestyle changes and you're now only grocery shopping for one or you aren't eating out anymore to save some money, then you could find yourself with a cash back rewards credit card that isn't really making you very much.
If you want to earn fixed cash back in specific spending categories …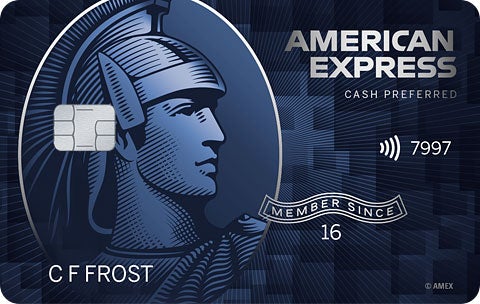 The Blue Cash Preferred® Card from American Express (a NextAdvisor advertiser) is a cash back powerhouse, offering a jaw-dropping 6% cash back at U.S. supermarkets (up to $6,000/year in purchases, then it's 1%) and on select U.S. streaming services, uncapped 3% with U.S. gas stations, transit purchases, and 1% on everything else. On top of all that, if you spend $1,000 on purchases within your first 3 months, you'll get a $250 cash back bonus. Although there is a $95 annual fee, the card still makes sense for those who frequent the grocery store and gas station because the cash back earnings are significant.
Those interested in some added flexibility might find the Bank of America® Cash Rewards credit card more to their liking. Cardholders will not only earn 3% cash back on a category of your choice, you're eligible to change your category each month if you so choose. This unique card is somewhat of a hybrid cash back card thanks to the ability to change your categories, but you'll be locked in with a fixed rate card in your desired category if that's your goal. On top of that, cardholders earn 2% at wholesale clubs and grocery stores, up to a combined quarterly maximum of $2,500 on choice category/wholesale club/grocery store purchases (all purchases after that earn 1%). You can earn a $200 online bonus after spending $1,000 in your first 90 days, and Bank of America Preferred Rewards members can earn an ongoing 25% to 75% cash reward bonus (depending on what type of account you have) on every purchase. Other notable perks of this rewards card include a 0% intro APR for 15 billing cycles on purchases and balance transfers made within the first 60 days and no annual fee.
If you want to earn fixed cash back on all of your purchases …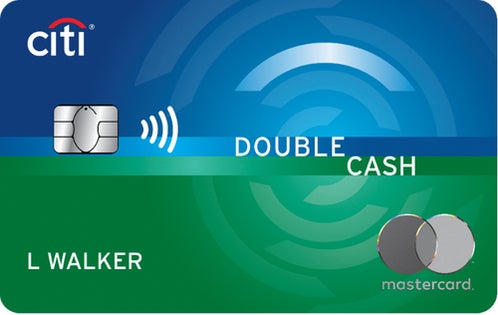 With the Citi® Double Cash Card (a NextAdvisor advertiser), not only will you earn an effective 2% cash back on all your purchases (1% at the time of purchase, and an additional 1% when you pay it off), but you'll also get 18 months of 0% intro APR on balance transfers (then it's 13.99% - 23.99% (Variable)), with a 3% balance transfer fee or $5 minimum. Although this card is best for those who pay their balance in full each month because there's no 0% intro APR on purchases, no matter how long it takes you to pay off your balance, you will receive the additional 1% on your purchases when you get to it. Like many of the cards we've already highlighted, this one has no annual fee to worry about.
Rotating cash back credit cards
Advantages:
If you're someone who likes change and wants to spread your earning potential over a variety of different spending categories throughout the year, a cash back credit card with rotating categories might be up your alley. Since the categories change instead of staying the same all year, these cards often offer higher cash back percentages in the promotional categories than rewards cards in fixed categories might.
Disadvantages:
Given the ever-changing nature of a credit card with rotating cash back categories, there may be some periods where you just won't earn much cash back because you don't spend money in those categories. Likewise, most credit cards with rotating categories require cardholders to activate or sign up each earning period, so you have to remember to do so in order to get your cash back.
If you want to earn cash back in rotating categories …
Discover it® Cash Back* offers new cardholders a cash back bonus almost too good to be true: in addition to earning ongoing rewards in the form of 5% cash back on purchases in quarterly rotating categories after activation (up to the quarterly maximum, currently $1,500, then it's 1% back) and 1% on all other purchases, at the end of your first 12 months as a cardholder, Discover will match all the cash back you've earned. That means if you earn $250 in your first year, you'll receive another $250 at the end for a total of $500 back! Other perks include a 14-month 0% intro APR on purchases and balance transfers (with a 3% intro balance transfer fee, up to 5% on future balance transfers, and after the intro period, a variable APR rate will apply) no annual fee and the Discover Freeze it feature which helps protect your account by letting you freeze your card from a smartphone or computer if you misplace it. You do have to activate the 5% categories each quarter to receive cash back, but you can sign up to be sent email alerts to remind you.
The Chase Freedom®* card earns cardholders 5% on purchases made in quarterly rotating categories (up to $1,500 combined purchases per quarter, then it's 1%) as well as an unlimited 1% cash back on all other purchases. Remembering to sign up for the rotating cash back categories is a breeze with Chase's reminder feature, which will send you a text or email each quarter. Anyone looking to save on interest will appreciate 15 months of 0% intro APR on purchases and balance transfers (with a 3% intro balance transfer fee or $5 minimum for transfers within the first 60 days, after that a 5% balance transfer fee or $5 minimum applies), and there also isn't an annual fee associated with this card. The cherry on top of this credit card is the $150 bonus you can earn by spending just $500 within the first 3 months of account opening. If you prefer a card with fixed cash back rewards, you may want to check out its sister card, Chase Freedom Unlimited®*, which earns an unlimited 1.5% cash back on all purchases.
*Information regarding the Discover it Cash Back, Chase Freedom, and Chase Freedom Unlimited was prepared by NextAdvisor.com staff. Opinions expressed therein are solely those of the writer and have not been reviewed or approved by any advertiser. The information, including card rates and fees, presented on this page is accurate as of the date of the post.
So what cash back card should you get?
There are a multitude of things to consider when applying for a credit card, but start by narrowing your search to the cards that fit your credit score. How you prioritize the other factors is up to you to determine, but finding an option that fits your purchasing habits will bring you the most value when it comes to cash back cards.
It starts with knowing where your money goes, so take a look at how you've spent in recent years. If you find that a high percentage of your budget consistently goes towards grocery shopping or dining out (or any other category, for that matter), find a fixed rate card that especially rewards that segment. Is your money distributed pretty evenly across all categories? Well, a flat-rate fixed cash back card might be the choice for you. For ambitious potential cardholders without an obvious trend in their budget, a rotating cash back card and some added effort will be your most lucrative option.
It's crucial to think through the other features of cards when comparing, such as their APR, annual fees, welcome offers and other perks. You might be able to slim your search down to two similar cash back cards that fit the way you spend, but weighing the other factors may be the key to unlocking your final decision.
Take your time, know your spending, consider your options and be realistic about your budget to find a card that will earn you the best rewards while boosting your credibility.
Not seeing a card that hits the mark or want to learn more about these cards and others? Read our reviews of the best credit cards for more in-depth comparison and coverage.
Disclaimer: This content is not provided or commissioned by the credit card issuer. Opinions expressed here are author's alone, not those of the credit card issuer, and have not been reviewed, approved or otherwise endorsed by the credit card issuer. This content was accurate at the time of this post, but card terms and conditions may change at any time. This site may be compensated through the credit card issuer Affiliate Program.