Updated: October 11, 2019
It's no secret that weddings are expensive, but did you know the price is steadily increasing? The results of The Knot Real Weddings Study showed that the national average cost of a wedding is $35,329 (note that this doesn't include the honeymoon costs) — that's $2,688 higher than last year's national average of $32,641. While your options to pay for a wedding are seemingly limitless, as you can choose to pay in cash, check, debit card, credit card or personal loan — yes, there is such a thing as a wedding loan — many don't realize that a credit card is one of the best ways to pay for your wedding. Keep reading to find out why and see some of our top credit card options for covering wedding expenses.
Why you should use a credit card to cover wedding expenses
There are a handful of reasons why you should use a credit card to pay for your wedding, including …
1. 0% intro APR periods give you plenty of time to pay off the balance interest-free. Although you can certainly save money for your wedding, it may be challenging to save enough in time for the big event. That's where a zero interest credit cards can help. These cards offer long 0% intro APR periods on purchases, which means you can pay for your wedding with the card, then pay it off all at once after the wedding or make payments over time — just make sure you pay the balance off before the 0% intro period expires so you won't pay an interest. If you want to avoid interest on your wedding purchases, you'll want one of the these cards in your wallet: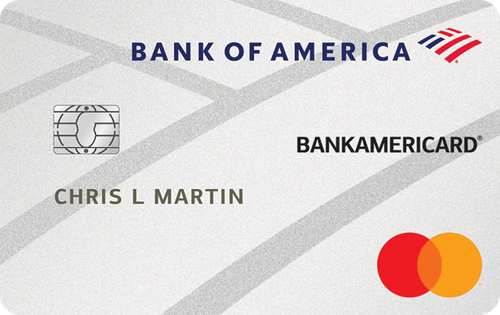 Another card offering a long 0% intro APR period is the BankAmericard credit card, which is available to those with good to excellent credit (usually considered a credit score of 700 or higher). This card offers an 18-billing cycle 0% intro APR on purchases and on balance transfers made in the first 60 days. It has a balance transfer fee of 3% ($10 minimum), but those who plan to use it for purchases won't have to worry about this fee. Other features of this card you'll appreciate include no annual fee, no penalty APR and monthly updates to your TransUnion FICO score for free.
2. You can earn cash back while you pay for your wedding. How would you like to earn cash while you pay for your wedding? Cash back credit cards can make this a reality. By using a card that earns a fixed cash back rate on every purchase, you can be sure that you're earning cash back on all of your wedding expenses. What's more, a number of cash back credit cards combine these fixed cash back rates with a generous intro bonus and long 0% intro APR periods, making them an even more impressive option. Here's a card offering exactly that: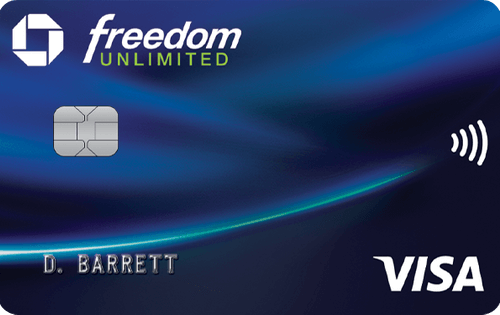 A cash back credit card that'd be a good choice for funding your wedding is Chase Freedom Unlimited. This card earns 1.5% cash back on all purchases — which means you'll earn cash back for paying your vendors, buying flowers and all of your other wedding purchases! There's also an easy to attain $150 bonus after spending $500 on purchases in the first 3 months. Adding to that is a 15-month 0% intro APR on purchases and balance transfers (with a 3% intro balance transfer fee when you transfer a balance during the first 60 days your account is open, $5 minimum — after that, it's 5% or $5, whichever is greater), giving you plenty of time to pay off your wedding expenses. Closing out Chase Freedom Unlimited is no annual fee.
It should be noted that travel rewards credit cards can also be used to fund wedding expenses, but we opted not to include them in this post because a number of top-rated credit cards do not offer 0% intro APRs on purchases. Still, if you'd prefer to earn travel rewards, there are a handful of cards to choose from, including Discover it Miles and the Bank of America Travel Rewards Visa credit card. Visit our reviews of the best travel rewards credit cards to learn more.
3. Credit cards offer the most fraud protection. While we've talked about this before, it's an important point to make again: credit cards offer the most fraud protection. On top of laws that provide added fraud protection and less fraud liability for credit card purchases, as detailed by the FTC, most credit card issuers also extend $0 fraud liability to cardholders, meaning cardholders are completely off the hook for a fraudulent charge.
4. You'll get more financial flexibility when unexpected expenses arise. If you've had any friends or family get married, they likely warned you that unexpected expenses will arise a couple weeks before your wedding, and if you don't plan for them, you may find yourself in quite a pickle. While you can plan for these expenses, there's no way to know how much they cost until they land in your lap, which means you may not know how much you need to set aside. By using a credit card for wedding-related purchases, you can be sure that you have the money to cover the last-minute expenses, and if you opt for a card with a long 0% intro APR, you can know that you don't have to count your pennies to pay the purchase off immediately.
Even though they are joyous occasions, weddings can also be a financially-stressful time. Luckily, credit cards can alleviate some of the stress and give you a little more time to breathe. Visit our reviews of the best credit cards to learn more about the cards detailed in this post and see how they compare to other top options on the market. Also, if you recently just paid for your wedding with a high-interest credit card, you'll want to check out our guide to paying off debt to see how you can rid yourself of that debt and avoid interest.
Disclaimer: This content is not provided or commissioned by the credit card issuer. Opinions expressed here are author's alone, not those of the credit card issuer, and have not been reviewed, approved or otherwise endorsed by the credit card issuer. This content was accurate at the time of this post, but card terms and conditions may change at any time. This site may be compensated through the credit card issuer Affiliate Program.