Updated: October 10, 2019
Are you planning to upgrade some appliances in your home or thinking of repainting that room that's been neglected for years? If so, you're likely trying to decide the best way for you to fund these home improvement projects. While you may be tempted to reach for your debit card or checkbook, there is one option you should consider: a credit card. Even though credit cards are often associated with debt, if they're used responsibly, they can be a handy financial tool, especially when you have a hefty bill to pay, like for home improvements. Keep reading to discover why a credit card is your best bet to fund home improvement projects. Plus, see which card I used to fund my own recent home improvement project.
Why use a credit card to fund home improvement projects?
Even if you have the cash to cover your home improvement projects — I did and I still used credit — it makes sense to choose credit. Below are some of the perks you can expect with a credit card.
Earn rewards on your purchases
This is probably the most obvious perk of using a credit card to pay for your home improvements, but it's one that's often overlooked. That's because a lot of homeowners get tunnel vision when it comes to financing their home improvement projects, as they aim to save the money to cover the purchase. While that's a great financial goal, paying in cash or writing a check won't earn you any rewards. On the flip side, when you use a rewards credit card to fund your project, you'll earn cash back or points/miles on the purchase, then you can use the cash you saved to pay off the balance. For example, I recently updated all of the appliances in my home, including the microwave, dishwasher, refrigerator, freestanding oven/stove and garbage compactor. Even though I had the cash to cover the purchase, I charged it all to my Citi Double Cash Card (a NextAdvisor advertiser), which earns 1% cash back when I make a purchase and another 1% when I pay for the purchase. After I paid off the $4,037.05 balance with the money I saved, I earned a total of $80.74 cash back, which is $80.74 I wouldn't have if I paid with a debit card, cash or check.
You can technically use any rewards credit card to fund your home improvement project, but it's smart to pick one that will maximize your rewards potential, meaning it earns you at least 1.5% back. Here are some cash back and travel cards that do exactly that:
Best cash back card: Citi Double Cash Card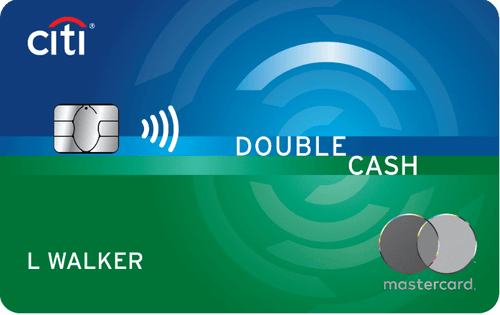 The Citi Double Cash Card, which was my choice for funding the appliance upgrades, offers a unique way to earn cash back. That's because cardholders first earn 1% when they make a purchase with the card, then another 1% when they pay for the purchase, bringing the total to an effective 2% cash back on all purchases. Cash back earned with the Citi Double Cash Card can be redeemed for a check, statement credit, direct deposit into your bank account or gift card. The card has no 0% intro APR on purchases, meaning you'll want to pay off the purchase before the statement closes to avoid interest — that's exactly what I did — but it does have an 18-month 0% intro APR on balance transfers (with a 3% balance transfer fee, $5 minimum). Additionally, you'll pay no annual fee and get a free monthly Equifax FICO score. Finally, you'll get access to Citi's Quick Lock feature, which allows you to easily lock or unlock your card using the mobile app or online portal.
It should be noted that a cash back credit card with rotating categories may also be a good option for your home improvement project, depending on the card's categories. We didn't include any in this post because the top options, Discover it Cash Back and Chase Freedom, do not currently offer home improvement stores as a rotating cash back category (note that Chase hasn't announced all of its 2019 categories yet, so there's a chance it could be one of the 5% categories later this year).
Best travel card: Capital One Venture Rewards Credit Card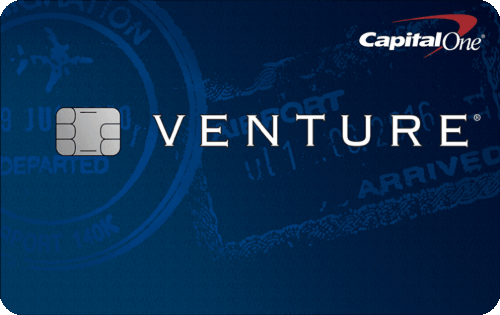 If you'd prefer a card that earns travel rewards, the Capital One Venture Rewards Credit Card is your best bet. This card earns an unlimited 2X miles on all purchases and has an impressive intro bonus opportunity. Cardholders who spend $3,000 on purchases within the first 3 months from account opening, an achievable amount for most home improvement projects, will earn a 50,000-mile bonus — that's equal to $500 in travel! Miles earned with the Capital One Venture Rewards Credit Card can be redeemed for travel with no blackout dates, cash, brand-name merchandise and more — note that redeeming for travel gives you the most value for your miles. While this card does have a $95 annual fee, it's waived for the first year. It also has no foreign transaction fees, an ideal perk for any world traveler, and a number of Visa Signature benefits, including complimentary concierge service, road assist service, travel and emergency service and more.
Pay down your home improvement purchase interest-free
Even if you don't have the cash to pay off the full price of your home improvement project, a credit card is a smart payment option for you. That's because low APR credit cards offer long 0% intro APRs on purchases, which means you'll have plenty of time to pay down your home improvement project, allowing you to make the update now and pay down the balance over time interest-free. This means you can add some value to your home without having to save up all the cash upfront. Not sure which cards offer the longest 0% intro APRs on purchases? Here's one of our top picks:
Best low APR card: BankAmericard credit card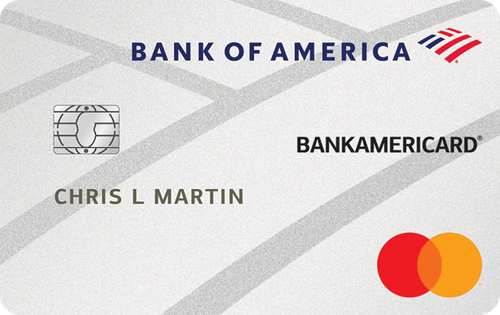 The BankAmericard credit card offers a lengthy 18-billing cycle 0% intro APR on purchases, giving you ample time to pay down your home improvement project. The 18-billing cycle 0% intro APR also extends to balance transfers made in the first 60 days, but note that there's a 3% balance transfer fee ($10 minimum). In addition to getting monthly updates to your FICO scores, the BankAmericard credit card charges no penalty APR and no annual fee. The card is available to those with good to excellent credit (usually considered a credit score of 700 or higher).
Gain financial flexibility
It's no secret that home improvement projects can get expensive, as sometimes problems pop up that you weren't expecting. For example, if you're planning to redo the bathroom, you may start the demolition process only to discover the sink's pipes are no longer to code and now you need to replace all of them. While you may have budgeted for such an expense, there's a chance that it may cost more than you budgeted for, especially if it's a DIY project and you haven't purchased all of the supplies yet. Opting to buy with a credit card allows you to get a bit more financial flexibility, so when the unexpected pops up, you're covered.
Best for first year rewards rate: Chase Freedom Unlimited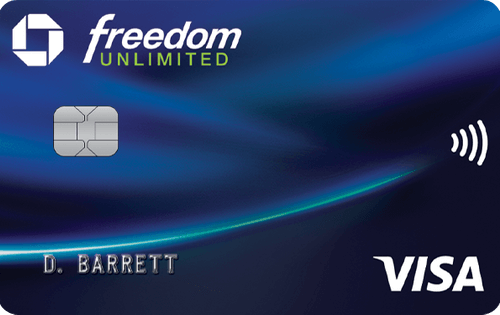 The Chase Freedom Unlimited is a good option for anyone about to start on home improvement projects. You'll earn $150 bonus after spending $500 on purchases in the first 3 months. Furthermore, you'll earn an unlimited 1.5% cash back on all purchases, which is a competitive rate. With this card you don't have to worry about rotating categories or spending caps. If you're looking to spread out the cost of your home improvement purchases the Freedom Unlimited also offers 15-month 0% intro APR on purchases.
Get more fraud protection
This is something we've explained before, but it's worth noting again. Credit cards offer the most fraud protection of any form of payment. In addition to laws that provide more fraud liability for credit cards, as noted by the FTC, most credit card issuers also provide cardholders with $0 fraud liability, which means cardholders are completely off the hook if there is fraud on their account. As such, it's smart to use a credit card for every purchase you make.
Extend your warranties
If you're planning to make a large purchase for your home, like I did when I updated my appliances, using the right credit card will allow you to get an even longer warranty. That's because some credit card issuers, like American Express (a NextAdvisor advertiser), offer extended warranties, which will extend the terms of the original manufacturer's warranty on warranties of 5 years or less. This means you can get extra protection is the unexpected happens and your new appliance or other big purchase breaks.
Starting a home improvement project is an exciting endeavor, but if you're not using the right form of payment, you could end up missing out on some major rewards and benefits. Visit our reviews of the best credit cards to learn more about the cards detailed in this post and see how they compare to other top names on the market.
Disclaimer: This content is not provided or commissioned by the credit card issuer. Opinions expressed here are author's alone, not those of the credit card issuer, and have not been reviewed, approved or otherwise endorsed by the credit card issuer. This content was accurate at the time of this post, but card terms and conditions may change at any time. This site may be compensated through the credit card issuer Affiliate Program.