Updated: April 7, 2020
This page includes information about Discover products that are not currently available on Next Advisor and may be out of date.
Flying is both one of the most exciting and frustrating parts of travel. On the one hand, it can take you around the world to new places you've never visited or bring you home in a matter of hours. On the other, it can sometimes be shockingly expensive. Luckily, a lot of travelers are interested in flying for less and are willing to share their accumulated wisdom on how to save on flights. We collected these five tips on how to bring down your airfare through smarter planning, booking and spending, and now we're passing them onto you. To find out how you can fly without spending as much, keep reading.
Pick cheap travel dates
A lot of people know that airfares get more expensive or cheaper depending on the time of year, but you may not know exactly when those price peaks and dips are. Generally, the most expensive times to fly are the middle of June through the middle of August, since a lot of people vacation during the summer, as well as major holidays such as Easter, Thanksgiving, Christmas and New Year's. If you're traveling internationally, you'll also want to keep holidays for your destination country in mind (for instance, if you're flying to Brazil, avoid dates around the wildly popular Carnival festival). Additionally, watch out for weekend departure and arrival dates in March and April, since those are the prime months for spring break. If you want to save on flights, the cheapest times to travel are January through the middle of May, and September through early December.
Besides the time of year, the days of the week you depart and arrive can make a difference in your fares too. Prices tend to be cheapest for Tuesday and Wednesday flights, and you can save money with Thursday and Saturday flights as well. Friday and Sunday are typically the priciest days to travel by air, so quick weekend trips can end up being some of the most costly.
Book in advance (but not too far in advance)
Besides choosing the right time to fly, you'll also want to choose the right time to book. While you would think that flights would start off at their cheapest and get more expensive over time, that's not actually how airfare pricing usually works. According to a study from CheapAir.com, flights in 2017 tended to start mildly expensive, get cheaper over time, hit their lowest price 2 or 3 months before departure and then skyrocket in price during the final month. The study found the optimal amount of time to book a flight in advance was, on average, 70 days, but the best time to book also changes by season. For winter flights, booking 62 days in advance yielded the best prices; for spring flights, it was 90 days in advance; for summer, it was 47 days and for fall it was 69 days. It also found that, contrary to rumors that booking on Tuesday nights will help you save on flights, the day of the week and time that you book your flights doesn't really affect the price by much.
Choose your destination based on price
You don't always have the freedom to select your destination. When you're visiting family or going to a specific event, you have a limited ability to look for deals or travel alternatives, so you just have to settle for what's available. If you're planning a vacation and you can be flexible with where you're going, though, it can definitely help you save on flights to search for prices before settling on a location. You can use flight search engines such as Google Flights, Momondo and Kayak to see flight prices to different places at various points of time, which can let you choose a destination with cheap airfare. Plus, doing research may inspire you to travel somewhere you hadn't considered before.
If you're flying domestically, you may also want to check the website for Southwest Airlines directly. Unlike many other U.S. airlines, Southwest does not appear in most flight search engines because its terms and conditions prohibit other websites from using its flight information. Southwest is a low-cost carrier, so it may have deals for flights within the United States.
Take advantage of multiple flights
Layovers, in which flyers stop for a few hours or transfer planes in a city that's en route to their destination, are a common way to save on flights when you have some time to spare. However, by getting a bit creative with itineraries, you can save even more money when you travel, especially when you go to other continents. The key is to use a combination of international and domestic airlines, rather than relying purely on one international carrier. Just like in the U.S., other continents have a number of budget domestic airlines that can fly you throughout the region for a reasonable price. For example, if you want to go to Paris, instead of a direct flight, you can try to find a cheaper flight to another European city like Barcelona, spend a day or two there, and then take a quick economy flight over to Paris on a domestic airline. Additionally, before you book with a budget airline, be sure you read its terms of service first, as there may be some unexpected fees for baggage or amenities that you should be aware of ahead of time.
Get a travel rewards credit card
By using a travel rewards credit card, you can earn rewards for purchases you were planning to make anyway, and then use those rewards to supplement your journeys or completely fund your future trip. Plus, unlike the other tips which require preplanning and coordination, this one is easy to implement. To get you started, here are a few of our top picks for travel rewards cards.
The Capital One Venture Rewards Credit Card has pretty much all the features you should look for in a travel rewards credit card. It earns a respectable 2 miles for each $1 spent on all purchases. Cardholders who spend $3,000 on purchases in the first 3 months of opening their card account will receive a similarly impressive 50,000-mile intro bonus, which can be redeemed for $500 in travel expenses. You're flexible in how you can use your miles too, as Capital One Venture doesn't restrict your rewards to any particular airlines or hotels. Just charge your travel expenses to your card, and then you can convert your miles to statement credit that you can use to pay some or all of your travel purchases. Cardholders can also use their rewards to book travel through the Capital One Rewards Center. The Capital One Venture Rewards Credit Card also has perks that are helpful for travel, with no foreign transaction fees and up to $100 credit every 4 years to cover TSA PreCheck or Global Entry fees, as well as general shopping, such as extended warranty protection on purchases and a free TransUnion FICO score each month. There is an annual fee of $95, but it's waived for the first year. If you want to avoid the fee, you should consider the similar Capital One VentureOne Rewards Credit Card, which has no annual fee in return for a lower rewards rate on all purchases (unlimited 1.25X miles on every purchase). Both cards require good to excellent credit to qualify, which is often considered a credit score of 700 or higher.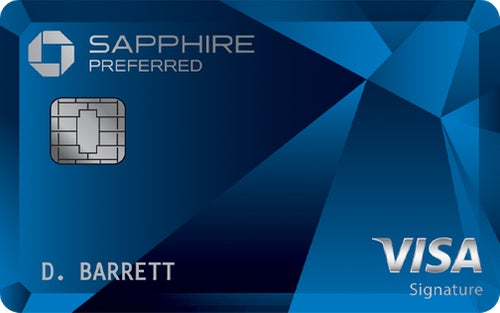 The Sapphire name is well-known among travel card users, and for good reason. The Chase Sapphire Preferred Card offers fantastic rewards, made even better by the 25% point redemption bonus you receive whenever you use your points to book travel through Chase Ultimate Rewards. Its 60,000-point intro bonus rivals Capital One Venture's, as it's worth a massive $750 when used for travel via Chase Ultimate Rewards, and can be yours when you spend $4,000 on purchases in the first 3 months of card ownership. Its ongoing rewards are not quite as good as Capital One Venture's, as the Chase Sapphire Preferred Card earns 2 points for each $1 you spend on travel and dining, and 1 point for each $1 spent on all other purchases. However, Chase points are transferable to a number of travel rewards programs, such as United, Virgin Atlantic, Hyatt and Marriott, which can push their value even higher. This card also sports some helpful travel perks, including no foreign transaction fees, travel accident insurance and lost luggage redemption. It has a $95 annual fee. The Chase Sapphire Preferred Card requires excellent credit (usually considered a credit score of 750 or higher) for approval.
Discover it® Miles
Discover it Miles is one of the best travel cards you can find with no annual fee, and can work well with just about any kind of spender. With this card, you'll earn 1.5 miles for each $1 you spend, and at the end of your first year of card ownership, Discover will match all of the miles you've earned so far. Unlike a traditional intro bonus, Discover's match bonus doesn't have any spending minimums you have to meet and scales up with however much you use your card. For example, if you earn 35,000 miles in the first year, Discover will match that 35,000 to give you a total of 70,000 back! Your rewards don't have any redemption restrictions. You can either exchange your miles for a direct deposit into your bank account, or trade them for statement credit to pay off your travel purchases. Unlike the previously mentioned cards, Discover it Miles comes with a 14-month 0% intro APR on purchases (after the 0% intro APR expires, a variable go-to rate applies). You'll also get a number of security-related perks, such as free social security number alerts, a free FICO credit score each month and access to Discover it Freeze, which lets you lock and unlock your account from your computer or mobile device if you lose your card. Discover it Miles requires average to excellent credit (usually considered a credit score of 670 or higher) to qualify.
*Information regarding the Discover it Miles and Capital One Venture Rewards Credit Card was prepared by NextAdvisor.com staff. Opinions expressed therein are solely those of the writer and have not been reviewed or approved by any advertiser. The information, including card rates and fees, presented on this page is accurate as of the date of the post.
By following these tips, you'll hopefully be able to plan your next excursion while spending a lot less money. To find more ways to save money in every aspect of your life, follow our personal finance blog.
Disclaimer: This content is not provided or commissioned by the credit card issuer. Opinions expressed here are author's alone, not those of the credit card issuer, and have not been reviewed, approved or otherwise endorsed by the credit card issuer. This content was accurate at the time of this post, but card terms and conditions may change at any time. This site may be compensated through the credit card issuer Affiliate Program.